OK, well it didn't really fall OFF.... I had the driver side door open and saw a piece of foam inside the front left fender. Was not attached to anything and just pulled right out from the top with the hood open :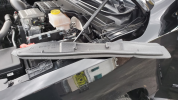 Looking in the Right door side, you can see another one that is held on with a plate in the middle of it:

Looks like on the driver side they did not attach it with the plate and it was just loose in there. Looks like it just help prevent air from the engine area passing through there?
Cant get it back on without the fender coming off I believe and to go to the dealer and have them take the fender off, etc. I dont know if its worth it or if I want to take the chance on them scratching or screwing something else up.
Anyone know exactly what this does and wanting to know what you think about going through the hassle of the dealer putting it back on or just leave it off and forget about it?
Thanks!
Last edited: