Joined

Nov 12, 2020
Messages

12
Reaction score

18
Welcome to the thread! Here I'll be posting updates and taking suggestions for my "Poor Man's Rebel" build project. Keep reading for a description of the project and a full list of completed and planned mods. All advice is welcome so if you have any thoughts, please share them!
I got my brand new 2019 Tradesman just over a year ago, mostly with settlement money from an accident that totaled my old car. I've always wanted a truck, but I'm not exactly rich, and the cheapest truck on the lot was the only one I could afford. 4WD and a Hemi was my bottom line, but other than that, the truck is as barebones as they come. Of course I had originally planned on keeping it that way, but as every truck owner does, I soon went down the rabbit hole of modifications and eventually got the idea for a fun project.
Most of us would love to have an epic off-road machine, but factory off-road models like the Rebel, Raptor, or TRD are, in my observation, severely overpriced. While I was diving head-first into the world of truck mods, I suddenly got the idea: what if I could build a truck that was
better
than the Ram Rebel for less than the cost of one?
The lowest trim package for the Rebel comes in at over $44K. I signed for my Tradesman for just over $28K. For the sake of convenience, we'll round up to $45K and $29K, respectively. That's a $16K difference. To meet the capabilities of the stock Rebel, the minimum I would need is lift, wheels & tires, skid plates, and a set of gears & lockers. All of that stuff would be (very roughly) $6K, leaving me with $10,000 to continue making the truck as INSANE as possible!
Here are some basic ground rules and clarification:
-No cheaping out. Not having mods at all is better than having crappy mods, and I'm not going to sell myself short on important components for the sake of spending the minimum amount of money.
-Tying into the first point, all parts must be bought new.
-I'm going to be evaluating my build when compared to the Rebel, but I'm not going to be limiting it. I have goals for the truck that I (eventually) plan to meet regardless of how the cost compares to the Rebel. This project is going to be more of a "proof of concept." If it ends up surpassing the cost of a stock Rebel, then, oh well... I'm still going to continue building it to where I want it to be.
-I don't have $16K to throw around so obviously this will be more of a long-term project.
-I'll be including every mod/accessory and their costs in this post, however, items that don't come stock on
any
of the Rebel trim packages (example: Oil Catch Can) will not be included when determining whether or not I've met my goal.
-Prices posted here will reflect what I paid for them, not necessarily their current MSRP.
-Anything that isn't physically attached to the vehicle, such as recovery gear or tools, won't be included here.
Now finally, the good stuff.
TRUCK STATUS AND PROGRESS:
11/16/2020 - Initial Post
My goal for this build is mix of overlanding and rock crawling, with a little bit of mall crawling thrown in there because hey, who doesn't like riding in style. Mods will be oriented around off-road performance while still keeping it practical for daily driving. Eventually I'll start getting into fancier stuff, but for right now, everything has a purpose. By the time I decided to post this project on the forum, I had already upgraded my wheels & tires and I don't have any pictures of it before. Let me just say, though, that the factory 18" steel rims that come on the Tradesman were pretty darn ugly.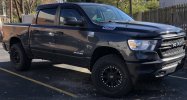 COMPLETED MODS/ACCESSORIES (in order, with notes):
1. Line-X Spray-In Bed Liner: $500
-This was the first mod I did, back when I was mostly planning on keeping the truck stock. After the first few times I hauled stuff, I noticed the bed getting severely scratched up and wanted to make sure it was protected. I know, I could have done this cheaper using spray cans from Wal-Mart but I appreciate the professional job, quality, and warranty from Line-X.
2. WeatherTech Floor Liners: $279
-In my state we have some particularly nasty winters. I also eat in my truck a lot, and frequently get my boots dirty. All things considered, bucket-style rubber floor mats were a no-brainer. I would have preferred Husky Liners but I got the WeatherTechs as a gift.
3. Line-X Rust Proofing & Undercoating: $500
-Once again, nasty winters. Especially with the knowledge that Rams have had rusting issues in the past, this was something that I decided I wanted done. I know undercoating can be considered a ripoff or even counter-productive, which is why I did a heavy amount of research into the specifics. I ultimately went back to Line-X, as their process does not involve the dodgy methods that leave your vehicle worse off than it was before.
4. Rough Country Hard Tri-Fold Tonneau Cover: $600
-I needed a tonneau cover because I usually move a lot of junk, and I wanted to be able to lock it safely in the bed in order to free up some cab space. I chose a hard tri-fold model because they are secure and can't be knifed into, and I don't really like the look of shell-tops. I know one of my personal rules was "no cheaping out" and Rough Country is generally considered cheap, but for something as simple as a tonneau cover, Rough Country does just fine. It looks great and I haven't had any issues with it.
5. AVS Bugflector II Hood Deflector: $95
-I live in an area where the bugs get really bad, and I mean BAD, in the summer. After it started getting to the point where an hour's drive would leave me barely able to see out my windshield, I invested in a bug deflector and it works as advertised. I think it adds a nice bit of trim to the front end as well.
6. JLT 3.0 Oil Separator: $150
-I drive all over my state for various reasons, usually on a weekly basis, and I put a ton of miles on my truck. Especially with how much driving I do, there's really no reason
not
to get an oil separator/catch can. They're easy, relatively inexpensive, and keep your engine clean and running at peak power/gas mileage.
7. AVS Ventvisors: $70
-I like driving with the windows down when it's nice out, but I hate the noise/echo when the air doesn't flow easily. Also, I hate how the interior door panel gets soaked when I order at a drive-thru in the rain. Ventvisors were an easy, inexpensive fix to both issues.
8. MOPAR 2" Lift Kit with Fox 2.0 Shocks: $1170
-Now we're finally getting into the good stuff. After doing a heavy, heavy amount of research on lift kits (because they're a huge component of your truck but easy to screw up), I eventually settled on the MOPAR. This kit comes with Fox 2.0 shocks for all four corners and raises the truck 2.5" up front and 2" in the rear, eliminating a half inch of rake. By going with a small lift I was able to keep the center of gravity low, and MOPAR claims it can still fit 35in tires without issue (which I'll discuss more below). The truck rides like a dream both on- and off-road and I'm very happy with my choice here.
9. Pro Comp Series 33 Wheels 18x9 +0 Offset, packaged with Falken Wildpeak AT3W LT325/65R18 (35x13): $2270
-I spent weeks researching and going back and forth between 33" and 35" tires. 37s were out of the question because they were way out of my price range and I want to keep this truck practical. I settled on 35s because I wanted to maximize off-road capability (within my limits), they fit with the MOPAR lift kit, and I think they look better too. I chose 18" wheels because more sidewall is safer and more comfortable off-road. 18s are the smallest wheel that fits over the 5th Gen brake calipers, and even then, some still don't fit. Finding a good set of 18s that fit both my preferences and my truck was a chore. Shameless plug here though, the customer service team at Custom Offsets was absolutely stellar and helped me through the whole process. Choosing a tire brand and model was also a long process, but I ultimately chose the Falken Wildpeak AT3W for a number of reasons. I chose aggressive all-terrains over mud-terrains because of the amount of highway driving that I do, and because of the 3-Peak Mountain Snowflake rating (as far as I know, I couldn't find any M/Ts that had this rating). My state doesn't have a winter tire requirement, but driving on the stock H/Ts in winter still felt downright dangerous. After much research I only found a single negative review for the AT3Ws, and it was from a certain genius who tried to go rock crawling with P rated tires. Every other review was nothing but glowing praise. So far, they've been great for me as well. As a final note, the 35x13s fit the MOPAR lift on 0 offset wheels, however, I can't guarantee fitment on the stock -19 offset wheels. You're probably going to have to go with slightly narrower tires if you plan on keeping your stock wheels.
SO AS OF NOVEMBER 2020, I've spent a grand total of $5634 on mods, leaving me with over $10K before I reach the minimum price of a Rebel. I'm definitely not rivaling Rebel capabilities yet, but I'm halfway there with the suspension and tires.
PLANNED MODS/ACCESSORIES (roughly in the order I want to acquire them, but not set in stone):
1. OE Style Fender Flares, MOPAR Wheel Well Liners, and Husky Mud Guards
-Some relatively inexpensive, basic trim and value protection.
2. Barricade HD Off-Road Rear Bumper
-The only reason I moved this higher up on the priorities list is that somebody put a nasty dent in my rear bumper recently while I was parked on a city street. No reason to pay over $1000 to replace the OE bumper when an aftermarket one costs less and is already on my wishlist.
3. Flowmaster American Thunder Cat-Back Exhaust System
-The Barricade rear bumper has cutouts for the dual rear-exit exhaust, but I have the side-exit stock and I think it would look a little out of place without a new exhaust. Of course the meaner sound a little extra horsepower are a bonus.
4. MOPAR Skid Plate Set (Fuel Tank, Front Suspension, Transfer Case)
-Pretty self explanatory. Mandatory for off-roading.
5. Re-Gear, Rear E-Locker, & Differential Armor
-I don't have a brand or specifics picked out yet. I do have a rough idea for gear ratio, and I'm debating between 3.55 or 3.73 (I have 3.21 stock). I'm also considering 3.92 but it doesn't seem entirely necessary and will hurt gas mileage even more.
6. Steel Front Bumper
-I have three criteria for a new front bumper, those being a skid plate, bull/guard bar, and winch mount. I've narrowed my search down to three bumpers, but each option is missing one of my criteria. The Barricade HD doesn't have a winch mount, the ADD Stealth Fighter doesn't have a guard bar, and the FabFours Matrix doesn't have a skid plate. Right now I'm leaning heavily towards the Barricade HD, which I can probably modify to accept a winch if all else fails. I've pretty much ruled out the Stealth Fighter because it doesn't offer good impact protection. The Matrix would be flawless if it had a skid plate, but I really want that protection for my front diff.
7. White Knuckle Rock Sliders
-The only true rock sliders available for the 5th Gen Rams. Excellent side protection for hardcore off-roading... and they double as running boards for the short people in my life.
8. AFE Momentum GT Cold Air Intake
-This will give me a little bit of extra horsepower, especially when paired with the cat-back.
9. JMS Terrain PedalMax
-A throttle controller to eliminate that pesky throttle lag.
10. Freedom Off-Road Adjustable Track Bar
-The MOPAR lift kit came with a track bar bracket which will suffice for now, but this one will be much stronger and more accurate to the OE tolerances.
11. Performance Coil Packs
-From the research I've done, it sounds like a set of performance coil packs will improve gas mileage and smooth out engine operation, along with a minor performance boost. I've heard great things about Ripp Performance and I'm holding out for them to come out with a set for the Hemi (currently they only offer coil packs for the Pentastar V6). If that doesn't happen I could go with MSD Blasters, but these aren't a priority so I'm fine with waiting.
12. Nova Series LED Headlights
-Let's be honest, the stock halogens are just... bleh.
OTHER IDEAS (things that I've thought about but haven't really planned for):
-Winch
-Undercover Swing Case
-BuiltRight Industries Bedside Rack System
-Full Size Spare Tire and Mounting Solution
-Rock Lights
If you've made it this far... YOU ROCK! Please let me know your thoughts and ideas. Thanks for reading!