To start, I got a 2020 Ram 1500 Limited.
Noticed on its uConnect that there is no list to see favorites that are currently on through XM. I did googling and came across a post here (
https://5thgenrams.com/community/threads/favorite-songs-artists-xm.12469/post-217523
) where someone had said
that after an update to their system,
they were able to see a list with a bit of navigating through different screens. My question is, does anyone with this type of truck and system was able to get that list, and if so what version are you running?
Mine has not been updated since I bought it in October of 2019, but when I go to software update check on driveuconnect.com it tells me its up to date, which I kinda feel is hard to believe and I'm not sure if the dealer has record of my last known software update to the point where I could just call the service department and they would be able to tell me if it needs one or not. At the same time, hate to waste time at the dealership for an update, when there is no update available. I meant to get my current version number before writing this after getting out of the truck, but I wanted to get this out here first to see what some of you guys have to say about it. Thanks for your help fellas.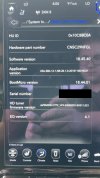 Last edited: