Joined

Oct 8, 2020
Messages

22
Reaction score

7
Location
So, I'm recently new here on the forums and I've been having troubling things happening regarding my 8.4 Inch display.
It's first started out with the display going completely black, like 30 seconds or so after just starting my truck, however music was still playing. Tried screen power, nothing. Turned off the truck, opened the door, restarted it and still no display, but still audio. Few seconds later the screen comes back, and I've had no issues like that since. This was like three weeks ago, if I can remember right.
(I've seen people commenting on completely black screens as well.)
Here in the last two days, the audio display controls have started appearing faintly over the backup camera whenever I shift into reverse. Sometimes they faded out completely, sometimes not. I've noticed the edges of the backup camera are fuzzy sometimes as well.
There is also a delay from starting the truck to when the display actually appears.
I'm hoping here that its just a bad cable or something, as the truck is only a year old. Something with UConnect perhaps?
Has anyone come across this with your own vehicle as well?
(Rebel or otherwise)
(Sorry if this is written poorly, this is my first post)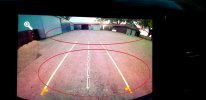 Last edited: