Joined

Jul 9, 2020
Messages

290
Reaction score

231
Location
Planning to do my first oil change this weekend and slowly getting all the parts together but this is becoming a bigger pain than i thought. I have the oil figured out thanks to many previous threads. Ill be going with the Pennzoil Platinum Euro Full synthetic 5w40.
Next im trying to source the oil filter. Obviously the dealer is crazy and quoted $97 for that and also $14 for each quart of oil, so no thanks.
Found an oil filter on dieselfilteronline for $44 which is better but still up there. (PN 68507958AA). Appears to be the filter element and canister, is that necessary?
So then i go to the mopar site and find this PN 68191349AC for $12.45. Says its for a 2020 Ram 1500 DT Ecodiesel. Is mopar wrong for listing this for a 2020 1500 DT ED?
Links below to all.
Which do I get? Seems to be the mopar one for $12.45 should do the trick unless those canisters break each time you take it off or the mopar site is wrong.
Oil
Oil filter from dieselfilteronline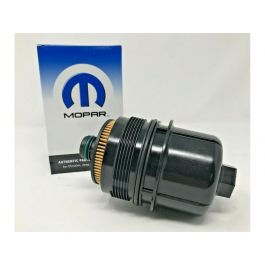 [68507598AA]Mopar OEM oil filter. 2020+ Ram 1500/Jeep Wrangler JL with 3.0L Diesel

www.dieselfiltersonline.com
Oil filter from Mopar store
2014-2021 Mopar Engine Oil Filter Kit 68191349AC
store.mopar.com