Joined

Jun 20, 2019
Messages

11
Reaction score

10
Hi 5th Gen Ram Crew,
After patiently waiting 7 months since I ordered the Carli Performance lift from CJC Off Road, I finally have it installed and tested! Thought I'd put together an initial review for those of you who are interested in learning more.
My Truck:
2019 Ram 1500 BigHorn Quadcab, Hemi eTorque, 4x4 ORG, Tow Package, 3.92s
Aftermarket Gear:
And NOW:
Reasons for buying the Kit:
Stock truck had crappy break-over Angle, would hit Skid Plates on everything (even with ORG)
Wanted to fit bigger Tires for looks, clearance, off road grip
I was looking for a heavy duty kit that retained the amazing on-road stock comfort and performance while significantly boosting off road performance
I live in San Francisco and love watching the Prius drivers squirm. Even better when I tell them mine is a hybrid too
Before:

After: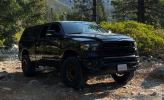 Review!
After I picked up the truck from Shaffers Off Road, who did the install, I drove the truck home and around town for a few days (~75miles). The plan was to do a 3 day on/off road camping trip through the Sierra Lakes in Tahoe/Plumas Forests. Total drive was around 450 miles (375 on road, 75 off road) and the off road portions were half/half slow-moving rocky terrain and dirt roads. I did this exact trip in July with the stock truck.
Initial Impressions:
Ride Comfort -
On Road: The first 500miles it was stiffer than stock, though now it seems to be virtually exactly the same as the stock ORG suspension (I believe the ORG is stiffer than the non-air, non-ORG suspension)
Off Road: The Stock truck was great on gravel/dirt but would dive when going over rocks. It was still comfortable but not super sure-footed. The Carli suspension is firmer for sure and would bounce back quite hard, though the truck no longer dives. I expect I can combat this bouncing feeling with lowering the tire pressure while off road. (during the test I kept them at street pressure ~36 PSI, just like I did with the stock truck)
Handling -
On Road: When I first drove it, the front felt like it was floating all over the place and I have a feeling it was because it hadn't settled. Now it drives very close to stock. Not better or worse than stock just a slightly different feeling. The best description I can think off is the Ram stock feels like a car, now it feels like a well-planted truck. Braking is a hair worse because of the weight of the wheels and tires but totally fine. Passenger Tire rubs on full lock in reverse even after minor trimming
Off Road: I would say the Carli setup gives you more confidence off road, with more predictability. I haven't done any desert laps yet, so I'm not sure how it compares there.
Drivability and MPG -
On Road: I haven't had the computer set for the larger tires, so take this with a grain of salt. I could definitely feel the wind/aerodynamics (or lack of) more and there is more downshifting, just like any time you put larger/heavier tires on. Surprisingly, the truck doesn't feel any less powerful and I expect that's due to the 3.92s in the rear taking up the slack. The Falken Wildpeak A/T3Ws are fantastic and I got them because of the insane snow performance I had on the stock 255s. The 295s are LT spec (18mm tread depth vs 13mm in the stock ones) and are super quiet. If you don't buy the Carli Kit, buy these for sure!
Off Road: MPG difference is nominal. The added height makes it virtually impossible to see where you are driving on rocky roads - I'm going to add a front camera asap!
Here's a summary table of my initial impressions:

Here's a Video of the truck off road. This trail is meant for Jeeps and SWB 4x4s. Last time I took the truck here that big rock in the middle scraped the entire underbody and nearly threw me over the edge of the trail. Wide angle lens makes it look much less severe. Very happy with the new clearance! On the way down, I did it without the spotter and it was easy
Stance
This is my main issue with the kit. The stance is way off and is an inch higher in the front than the back, unloaded. The Camper Shell and BedRug add around 250lbs but that shouldn't lose ~1.5 inches (they say the kit should have a 0.5" rake, rear tall). It looks like this issue happens with Rebels and Carli is developing 1inch taller rear springs for this kit - I suspect the issue is also with all ORGs too but can't say for sure. I might add a 1inch spacer in the rear and see how it goes, as it might be a few months before Carli release the new ones. EDIT, found the link here that explains it: https://carlisuspension.com/2019-ram-1500-rebel/

Originally, after looking at everyone's lift posts in this forum, I thought I would only gain 1.5inches in the front because I already had the ORG. The actual lift is way more than 1.5in. So, I can say with confidence, you will probably have a 2-2.5inch lift over the ORG (3.5in from stock maybe? Not sure). If someone else can measure their Stock ORG and comment, that would be much appreciated!

Here's my measurements after the lift: (like an idiot I forgot to measure before the lift, sorry!!!)
Front floor to wheel well: 41 1/4 in
Front top of Tire to well: 8 1/8 in
Driver door jam to floor: 21 1/4 in
Rear door jamb to floor: 19 1/2 in
Rear floor to wheel well: 40 1/2 in
Rear top of tire to well: 7 in
Unloaded Stance:

Conclusion
It was an expensive setup ~$9k for everything installed (parts/install/balancing/alignment) and I think it still has a bit of work to show me its true value. If you have ORG or Rebel, I would suggest waiting until they've released the specific kit. I'm really happy that I have way more ground clearance now and can't wait to take the truck on some more adventures!! Here's some bonus pics:


Edit,
Last edited: