5thGenRams Vendor
5thGenRams Vendor
Joined

Apr 2, 2021
Messages

158
Reaction score

99
Location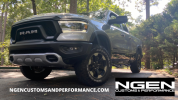 Hello everyone! My name is Bryan, the owner of NGEN Customs & Performance. We (myself and my wife Jennifer) have been in business since 2012, offering performance parts & custom accessories for the Fiat Abarth (500 & 124 Spider) and the Dodge Dart. During this time, we have provided excellent customer support and helped thousands of people with the parts they needed to modify their vehicle the way they wanted it. Also, in 2018, we launched our YouTube Channel, focusing on "How To Install" tutorials for many of the products that we offer on our site. With our true "step by step" process of showing you how to install the product, many more people have been able to modify their Abarth themselves as opposed to hiring someone else to do it (hey nothing wrong with hiring someone else either).
So what brings us to now?
In 2019, Stellantis (FCA back then) made the decision to discontinue making the 500 Abarth and in 2020 the 124 Spider. Although this market is still very strong for us (we have no plans to leave that market), we knew it was time to expand into another platform. We wanted to stay within the same family but also get into something completely different. So here we are now! In April of 2021, we purchased a 2020 Ram 1500 Rebel with the Hemi V8. During the first few months, we took some time to get familiar with the truck and then got to work adding products to our website. Effective August 1, 2021, we officially announced 5th generation Ram 1500 parts and accessories available on our website. We are still adding products almost daily so check back often as we still have a lot to add.
If you don't see something that you are interested in on our website, send us an e-mail and we will see if we can get it for you. Also, make sure to check out our YouTube Channel as we already have videos out for the Ram (and go ahead and hit that subscribe button!).
NGEN Customs & Performance YouTube Channel
Thank you to those of you who have already ordered from us and we look forward to helping all of you with any parts and accessories you are looking for!
- Bryan & Jennifer